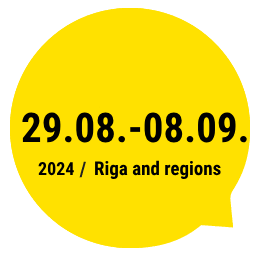 Programme
Western Society
Gob Squad (United Kingdom, Germany)
31.08 & 1.09 21.00 | €25 / €17
Western Society is a portrait of civilisation in the 21st century, like a frame through which we can peep into the living room of an unknown family, and recognize ourselves. In a far corner of the internet, Gob Squad have found a fairly unspectacular home video, of a family gathering somewhere at the edge of the western world, a waste product of our civilisation. There's a party going on. A room full of people. Family, friends and strangers are gathered around a karaoke machine, alone together and together alone.
Gob Squad, dressed head to toe in gold, want to bring this little moment of lived reality back to life and they want to get the image just right. As the reconstruction gets underway, they search for answers, ponder the nature of true happiness, show their best sides and spill their stories, projecting themselves into this tiny piece of history.
Western Society is inviting and isolating. It's heaven and hell. For some, the splendid decadence is a nightmare, for others a place they wished they could be. It's an endless party and everybody's there: young, old and everyone in between, and with a bit of luck, you could be there too.

About artist
We are Gob Squad, a group of UK and German artists. We make performances and videos which search for beauty in the everyday, and look for words of wisdom from a passing stranger. We are an artists collective, the seven core members working collaboratively on the concept, direction and performance of our work. Other artists, performers and technicians are invited to collaborate on particular projects.
We try and explore the point where theatre meets art, media and real life. As well as theatres and galleries, we place our work at the heart of urban life – in houses, shops, underground stations, car parks, hotels or directly on the street. Everyday life and magic, banality and utopia, reality and entertainment are all set on a collision course and the audience are often asked to step beyond their traditional role as passive spectators and bear witness to the results.
We started the company in Nottingham in 1994 but are now more or less based in Berlin, although we regularly make and present work in the UK, organised through our Nottingham office. Our work is regularly shown throughout Europe, and we've toured to all the continents apart from Antarctica.
Credits
Concept: Gob Squad
Devised by: Johanna Freiburg, Sean Patten, Damian Rebgetz, Tatiana Saphir, Sharon Smith, Berit Stumpf, Sarah Thom, Bastian Trost, Simon Will
Performed by: Sean Patten, Bastian Trost, Sharon Smith, Simon Will
Video: Miles Chalcraft
Sound Design: Jeff McGrory
Technical Coordinator & Lighting Design: Chris Umney
Costumes: Emma Cattell & Kerstin Honeit
Realisation Set Design: Lena Mody
Dramaturgy and Production Management: Christina Runge
Management: Eva Steffgen
Finance Management: Caroline Gentz + Grischa Schwiegk
Artistic Support: Anna Zrenner
Interns: Sarah Sarina Rommedahl, Sophie Galibert
First performance: 5th October 2013 at HAU Hebbel am Ufer Berlin, Germany
Western Society is a Gob Squad production
Western Society was Originally Commissioned by and Developed with support from Center Theatre Group, Michael Ritchie, Artistic Director, Los Angeles, CA.
The World Premiere Production of Western Society was Originally Produced by HAU Hebbel am Ufer, Berlin, Spielart Festival Munich and brut Vienna. A House on Fire co-production with the support of the Culture Programme of the European Union. With financial support from Berliner Kulturverwaltung.
Izrādi atbalsta